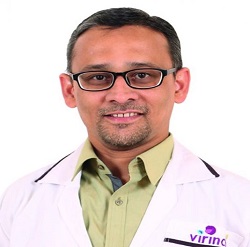 Dr. Mohammed Ateequr Rahman
Consultant- Interventional Neurologist & Stroke Specialist
MBBS, MD, DNB (Neuro), FINS, FINR
Department – Neurology & Interventional Neurology
Summary
Dr Mohammed Ateequr Rahman is a Consultant Interventional Neurologist & Stroke Specialist in the Department of Neurology at Virinchi Hospitals. His total 23 years of Medical practice includes seven years of neurology and five years of interventional Neurology. He has worked with reputed hospitals of Hyderabad and other cities in India under different leading capacities for interventional neurology & stroke. He has experience of teaching undergraduate, postgraduate & doctoral students in neurology, medicine & anatomy. He trained undergraduate and postgraduate students for Internal Medicine from Jan 2000 to March 2003 at Government Medical College, Nanded. He has worked as lecturer in the Department of Anatomy at BJ Medical College, Pune. He was with Care Institute of Neurosciences as a teacher and guide for DNB neurology candidates from April 2010 to July 2015. Dr Mohammed Ateequr Rahman after completing his residency in neurology completed his post-doctoral fellowship in interventional neurology and stroke that has seemingly augmented the neurological skills he'd spent years perfecting. Not many established physicians get cross trained as such, but he did exactly that. Neurointerventional techniques resolve brain and spinal conditions using non-surgical ways. He has realized the importance of adapting to changing technology, which will make new minimally invasive and nonsurgical techniques a reality. This technology will have a major impact on the field of Neurology and Neurosurgery. Dr Rahman believes in combining techniques from different activity to achieve a broader range of skills to treat diseases. His areas of interest include stroke/ TIA/ cerebrovascular diseases (acute management and prevention strategies), carotid/ intracranial stenting, emergency neurology (intra-cerebral haemorrhage, subarachnoid haemorrhage, intracranial aneurysms rupture, acute headaches,) and medical complications of neurological diseases. He has received advanced training in carotid stenting in Tokyo, Japan. After his post-doctoral fellowship, he has been practicing independently doing both diagnostic and therapeutic neuro-endovascular procedures. He is the only neurologist in the twin cities with cross-training in neurology and interventional neurology, which is a unique assest for Virinchi Hospital. His unique expertise ensures appropriate clinical assessment and decision making in acute neuroemergencies. Dr Mohammed Ateequr Rahman believes in adapting to robust technology and stroke genomics, which offer precision stroke therapy and preventive stroke therapy, and helps in diagnosing the possibilities of imminent stroke by cell phone usage and many more such possibilities. Virinchi Hospital with strong IT Capabilities provides latest technology capable of changing the practice of medicine with innovative ideas in stroke management. Furthermore, it ensures Tele-stroke consultation for patient residing in remote areas by offering the same standards of care as offered at city-based multi-speciality hospitals. Dr Mohammed Ateequr Rahman is passionate about his work and believes in building team, adapting technology in profession. He likes to be associated with books and interested in giving charity and spending time with orphans.
Clinical Trials
A Phase III, Double-blind, Placebo Controlled Study to Determine the Efficacy and Safety of a Low (50mg/day) Dose Safinamide, as Add on Therapy in Patients with IPD with Motor Fluctuations Treated with Stable Dose of Levodopa. NW1015/016/III/2006
Interact 2: The Second Intensive Blood Pressure Reduction in Acute Cerebral Haemorrhage Trial
DIAS-II Trial for Ischemic stroke
Faculty
Worked as a Lecturer in the Department of Anatomy at BJ Medical College, Pune, India in 1995 – 96
Worked as a Lecturer in the Department of Medicine at GMC Nanded, India in 2003
Teacher & guide for DNB Neurology from April 2010 to July 2015
Fellowships/ Affiliations
Fellowship in Interventional Neurology & Stroke (FINS), New Delhi
Publications/ Paper/ Conference/ Paper presentation
Emergence and Re-emergence of infections with Special Reference to Tuberculosis, Oral Candidiasis and Opportunistic Enteric Parasite in HIV/AIDS Cases – Journal of Indian Associated of Pathologist and Microbiologist 1998 Symposia
A Study on Bronchial Asthma with Special Features to Menstruation – Indian Journal of Allergy and Immunology June, 1999
Worked on Clinical profile of 100 ARC/AIDS cases at Government Medical College, Aurangabad Accepted thesis for December, 1999 M.D General Medicine Examination
A Study of Inter-Relationship of Tuberculosis, Oral Candidiasis and Enteric Parasites in 80 HIV/AIDS Cases – Tuberculosis of India
Wrist Drop as Presenting Feature of Cortical Infarct, Report of Six Cases, IXV Annual Conference of Indian Academy of Neurology, 6th-8th October 2006, Bangalore
Infarcts in MCA Etiology and Outcome Patterns – 16th Annual Conference of the Indian Academy of Neurology, 23-26 October 2008, New Delhi.
Wrist Academy of Neurology as Cortical Infarcts – A Report of Six Patients – 15th Annual Conference Andhra Pradesh Neuroscientist Association, 12-13th July, 2008
Iron Deficiency Anaemia and Stroke – A Report of Six Cases – Annual Conference of Indian Academy of Neurology, 4-7th October 2007, NCPA, Mumbai
Burden of Potentially Preventable Epilepsy – A Community Base Prevalence Study in Rural India, (CRESSI) 27th International Epilepsy congress 8th-12th July 2007 Singapore
A Randomised, Double-blind, Parallel-Group Placebo Controlled Phase III Study to Evaluate the Efficacy and Safety of Desmoteplase in Subjects with Acute Ischemic Stroke (DIAS-3) Key Positions
Academic programme coordinator for undergraduate and postgraduate curriculum, Department of Medicine, Government Medical College, Nanded
Chief of Medicine Unit, Lotus Super speciality Hospital, Nanded
Director Department of Neurology, Lotus Superspeciality Hospital, Nanded
Stroke Incharge, Neurocritical Care and Neurointerventions, Care Hospital, Hyderabad
Incharge Neuroscience Services, Citizens Hospitals, Hyderabad
Expertise
Intracranial stenting and angioplasty for symptomatic intracranial ICA, MCA, Basilar and vertebral stenosis
Extracranial carotid and vertebral artery stenting and angioplasty for symptomatic and severe asymptomatic carotid and vertebral artery disease
Head and Neck AVM/AVF embolization
Spinal AVM/AVF embolization
Preoperative balloon test occlusion and / or tumor embolization for head and neck tumor resection
Refractory Epistaxis embolization
Vertebroplasty
Diagnostic cerebral and spinal angiography
Aneurysm coiling
Arteriovenous malformation and arteriovenous fistula embolization
Carotid stenting
Acute stroke thrombolysis and mechanical thrombectomy
Intra-sinus thrombolysis in cerebral venous sinus thrombosis
Pre-surgical embolization of meningioma's and other vascular tumors
Need Assistance?
Call Our 24/7 Helpline Number
Need Help With Anything?
Request a Callback