Highly trained specialists provide compassionate care to the youngest and tiniest patients, with advanced technology designed specifically for premature infants.
Our Team of Pediatricians & Neonatologists
Services Offered

We offer treatment for wide range of pediatric disorders.
Neonatal Intensive Care Unit Incubator
Phototherapy
Warmer
Neonatal Intensive Care Unit Incubator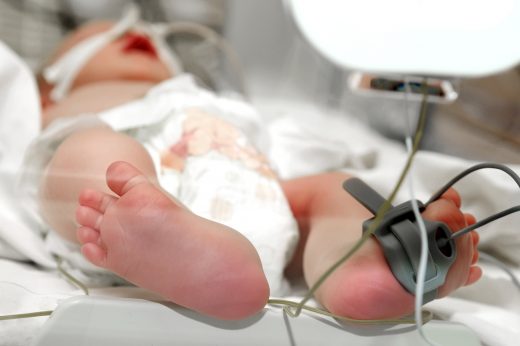 Maintains an environment suitable for neonates specializing in the care of critically ill or pre mature newborn infants
Phototherapy
Warmer
The Department of Neonatology offers specialized care to the premature babies and new born babies with complications to ensure better care by employing robust therapeutic techniques including artificial life support and infection control systems. Neonatal unit at Virinchi Hospitals is one of the advanced centres with specialized incubators integrated with modern technology to measure critical parameters like blood pressure, oxygen levels and other crucial parameters.
A qualified team of neonatologists along with an experienced ICU team deals with complicated surgical cases and the babies born with complicated health conditions to offer specialized care within the first hour of birth of the babies. The care begins even before the birth of the baby with improved investigations in the form of fetal echo and ultrasound of the head.
The department is well equipped with neonatal ICUs, ultrasonography equipment, endoscopic equipment. A team with specialization across several paediatric sub specialities has immense experience to deal with all types of congenital anomalies.
We are one of the best hospitals in Hyderabad, and we take our customer queries very seriously. To know more about the cost of treatment for the various procedures, please contact us at
contact_us@virinchihospitals.com
.
Our Pediatric Department Newborn Facility in Banjara Hills is well equipped with a Pediatric Intensive Care Unit and NICU. Our unit Offers a complete range of medical Services for children upto the age of 18 years including General OPD, well  baby clinic and Immunisation. An Emergency response team is available 24X7, in the process making the hospital the first of its kind.
When at VIRINCHI, you can assume yourself that your child is in the Best Possible Hands. 
The Department of Pediatrics at Virinchi Hospitals has child-friendly ambience with cutting-edge technology & state-of-the-art infrastructure. It provides safe & responsive care to your child through innovation, evidence-based medicine, multidisciplinary & collaborative treatment approach. We treat the whole child with a special focus on the developmental, spiritual & emotional needs of the children & their families.
The department is well-supported with advanced technology, innovative treatment and latest research. In addition, our pediatricians, pediatric intensivists, and neonatologists employ most sophisticated diagnostic and treatment techniques to deal effectively with the trickiest health issues of the children and thus develop precise therapeutic modalities to offer the best care possible to the children and their families.
Pediatrics unit has a dedicated waiting area for the patients and large rooms with a play area and supportive staff. The staff is dedicated to offer quality care to the children and their families. In-room registration facility is also available.
Neonatal Intensive Care Unit (NICU)
The department has state-of-the-art Neonatal Intensive Care Unit (NICU) that offers advanced neonatal care in close coordination with neonatologists, perinatologists' & obstetricians. The NICU unit has high-flow ventilators and state-of-the-art warmers for newborns wellness and safety.
Children's Intensive Care Unit (CICU)
Sophisticated Children's Intensive Care Unit (CICU) is equipped with world-class technology & efficient, innovative & latest healthcare systems. Intensive care is well supported with oncology, neurology, metabolic medicine, renal spinal surgery, ENT and respiratory medicine & endocrinology.
Pediatricians have hands-on experience and expertise to treat complex diseases that enable them to provide the best possible answers to the unresolved child issues.
We have state-of-the-art facilities to diagnose foetal anomalies and correct them in time with timely intervention and treatment. Foetal anomalies are diagnosed with the help of sophisticated ultrasound or sonography, echocardiograms and percutaneous umbilical blood sampling (PUBS). We have put in place our genetic counselling services to offer support to the couples who are willing to consider testing procedures like amniocentesis and chorionic villus sampling (to detect chromosomal disorders like Down Syndrome or other genetic conditions like Cystic fibrosis).
Pediatric Emergency Care
Fully equipped emergency department with a dedicated pediatric facility offers fastest emergency response for all pediatric emergencies including medical, surgical and trauma. pediatric critical care unit is a level –III care with incubators and advanced ventilation support (high-frequency oscillatory ventilation). It offers pediatric emergency transport service & children's emergency services including preoperative & post operative care of pediatric patients. We have a level III neonatal intensive care unit [NICU] which is well-equipped to handle any neonatal emergency as well.
We believe in collaborative and multidisciplinary treatment approach, which will meet the requirements of your child now and in the future as well. All the specialists work together to devise a treatment plan, which is customized according to the requirements of your child. We have dedicated pediatric nurses with special training to take care of the specific needs of the tiny tots.
Pediatric Surgery
Pediatric Surgical Unit at Virinchi Hospitals is well equipped to manage any pediatric surgical requirements. All the pediatric surgeons are well qualified and experienced. Pediatric surgical team includes pediatric GI surgeons, Pediatric oncosurgeons, pediatric cardiovascular surgeons, pediatric neuro surgeons, pediatric orthophedic surgeons and pediatric liver transplant surgeons. The entire team focusses on providing the best care possible by adopting the best practices, continuous medical education and cutting-edge technology. Our pediatric surgeons across all specialities provide care for all routine surgeries and complicated surgeries.
Integrated OT Suites
Exceptional design of the operating theatre suites minimizes the intricacies of the most intricate areas of the hospital. Therefore, Operation theatres at Virinchi Hospitals have been meticulously designed to optimize their capabilities. Punctilious Operating Theatre (OT) Suites integrated with superior technology help ease the operating capabilities of the surgeons and surgical team and ensure safe and efficient environment for the patient.
The integrated Operation Theatre suite epitomizes the futuristic technology integrated theatre with sophisticated technology and equipment including HD cameras, monitors, DVD recording, LED flux of lights, and efficient voice control systems. It is beneficial to both the patient and surgeon. For the surgeon, this suit has the potential to augment the results in minimally invasive surgeries and it offers the best possible solution to patient's safety and better outcome.
Surgical site infections are quite common after surgery. Our operation theatres have laminar air flow systems that use High-efficiency Particulate Air Filters (HEPA) by which the particles as small as 0.3 microns can be removed. Thus, the usage of ultra-clean air minimizes infection rates significantly in the OT setting.
Salient features of our integrated OT Suites
An exclusive pre-operative area
Latest anaesthesia workstations
Remotely controlled motorized OT tables
LED shadow less operation table lights
Automatic touch-free operating room doors
Surgeon control panels
Laminar air flow with HEPA filters
Top-of-the-line electrocautery machines & other energy sources
C-Arm
Complete stainless steel panelling with smooth finish
Fiberglass flooring
A unique facility of tele imaging and satellite communication
A well-equipped Post Anaesthesia Care Unit (PACU)
Smart ICUs
We have developed a SMART Intensive Care Unit (ICU) system that improves vital-sign monitoring of critically-ill patients. By collecting and analysing several vital signs simultaneously, the smart ICU system could be used to assist physicians and nurses in monitoring patient's physiological parameters.
With the smart ICU, it is quite possible to potentially spot dangerous deviations from a patient's 'ideal' vital-sign range and remedy problems quickly.
We have different types of ICUs for children
MICU-Medical ICU
SICU-Surgical ICU
NICU-Neonatal ICU
PICU-Pediatrics ICU
CICU-Cardiac ICU
CTICU-Cardio Thoracic ICU
The criticality of designing smart ICU's lies in the proper understanding of IT, meticulous planning, diligent designing and creation of sophisticated infrastructure, which is efficient enough to provide proper connectivity, interoperability and better middleware solutions that offer better care.
Pediatric experts across specialities closely work together and thoroughly evaluate your child to diagnose the condition no matter how complicated it is and then provide the best treatment according to your child's requirement.
Our pediatric surgeons are trained in minimally invasive ear surgery, which is the best alternative to the open surgery as the complications are less, pain is less, the hospital stay is short and recovery is faster.
Latest technology
 Our Pediatric experts use state-of-the-art diagnostic and treatment techniques and equipment, including the robust 128 slice CT, 3T fMRI and scanning technology. All CT scanners are set appropriately to ensure that your child receives minimal exposure to radiation. Interventional radiologists provide on-site services. Extracorporeal membrane oxygenation (ECMO) ECMO involves the use of a heart-lung machine to provide temporary heart and lung function in new-borns or young children to allow for treatment or healing. Neonatal Intensive Care Unit Incubators, with their large canopy surfaces, x-ray tray and radiolucent mattress, makes it easy to take digital x-ray images.
We are one of the best heart hospitals in Hyderabad, and we take our customer queries very seriously. To know more about the cost of treatment for the various procedures, please contact us at contact_us@virinchihospitals.com


12000+
Surgeries Performed Till Date



I am Teena, I just have one word for Virinchi Hospital. The best in the domain of healthcare. I am thankful to the team of Virinchi Hospital, because of them my mother is leading a happy life after so long I can see her happy face.
Teena
I am Sushil, I am pursing a course in yoga. After receiving treatments for my skin infection. I was very impressed by the nurses and doctor; their skills seem to have done the right trick on the issue faced by me. after so long I am able to lead a happy life.
Sushil
I am Kartik, a little about me I am a biker. I would like to narrate how happy I am with the professional service at Virinchi Hospital has provided. I would not hesitate to go back as Virinchi Hospital is very good in giving you the much needed comfort , which is greatly missed in other hospitals.
Kartik