Providing the best treatment for both operative and nonoperative management of disorders that affect the central and peripheral nervous systems.
"Award winning team of Medical and Surgical Neurosurgeons"
Having the best neuro hospital in Hyderabad, we have been successfully treating:
Services Offered

We offer a treatment for wide range of Neurological disorders.
Conditions We Treat and Services offered
Neuro-Rehabilitation Services
Our Team of Best Neurologists
Electroencephalography (Eeg)
Trans Cranial Doppler
Electroneuromyography (Enmg)
ICU Brain Monitoring System
Neurocath Lab
Neuronavigation System
Surgical Microscope
Nerve Monitoring System
Electroencephalography (Eeg)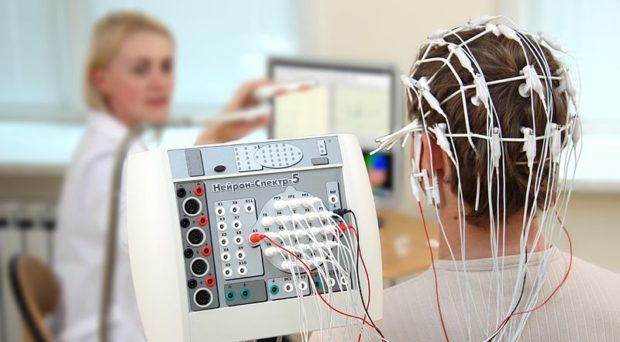 Effective instrument for extracting information about the severity of brain injury and the method of excellence to
detect the occurrence of epileptic seizures.
Trans Cranial Doppler
Electroneuromyography (Enmg)
ICU Brain Monitoring System
Neurocath Lab
Neuronavigation System
Surgical Microscope
Nerve Monitoring System
Virinchi Hospitals – Best neuro specialist hospital in Hyderabad 
Virinchi Hospitals is renowed as the Best Neurosurgery & Spine Hospital in Hyderabad. The department of neurosurgery and spine offers the most comprehensive medical and surgical management options for brain, skull and spine disorders.
Depending on the degree of severity various types of surgical procedures such as minimally invasive surgeries, stereotactic surgeries, neurovascular interventions, endoscopic procedures & decompression surgeries are implemented by vastly experienced neurosurgeons. And with the help of state-of-the-art facilities and cutting edge technologies, best of our neurosurgeons are able to perform most complex brain and spine surgeries without any procedure induced complications.
The department is fortified with top-notch neurosurgeons and neurologists that are sufficiently supported by well-trained support staff and specialists from neurology, interventional neurology, general surgery, anaesthesia, radiology and orthopaedic surgery. And the department has been continuously attracting renowned adult and paediatric neurosurgeons and spine specialists from all over India to be one among the excellent neurosurgery team members and its allied facilities, resources and extraordinary outcomes. Of the very few best neurosurgeons in Hyderabad and Secunderabad, our specialists offer personalised care for patients from different age groups and variety of neurological conditions requiring surgical interventions.
Our department is geared in-totality to treat entire range of spine and brain tumour surgeries with greatest precision and accuracy using image guided planning and intraoperative navigation. Best of our neurosurgeons are vastly experienced in offering most advanced treatment options to restore function, relieve pain and avoid relapse or recurrence of brain and spine tumour growth. 
Conditions Treated
Acoustic neuroma
Acromegaly
Adenocarcinoma
Adenoid cystic carcinoma
Aneurysms
Angiofibroma
Arachnoid cyst
Arteriovenous malformation
Astrocytoma
Balance problems
Basilar invagination
Benign peripheral nerve tumor
Brachial plexus injury
Brain abscess
Brain aneurysm
Brain Arteriovenous malformation
Brain lymphoma
Brain metastases
Brain tumor
Carotid artery disease / Carotid artery stenosis
Carpal tunnel syndrome
Cavernous malformations
Central nervous system vascular malformations
Central neurocytoma
Cerebral palsy
Cerebrospinal fluid leak
Cervical spinal stenosis
Chiari malformation
Cholesterol granuloma
Chondroma
Chondrosarcoma
Chordoma
Choroid plexus tumor
Cluster headache
Colloid cyst
Craniofacial fracture
Craniofacial malformation
Craniopharyngioma
Craniosynostosis
Cushing syndrome
Cushing's Disease
Deep-seated brain tumors
Delayed sleep phase
Dermoid and epidermoid tumors
Dural arteriovenous fistulas
Dystonia
Encephalocele
Ependymoma
Epilepsy
Essential tremor
Esthesioneuroblastoma
Fibrous dysplasia
Gaucher disease
Glioblastoma multiforme
Glioma
Glomus tumor
Head and neck cancers
Hemangiopericytoma
Hemifacial spasm
Hereditary hemorrhagic telangiectasia
Huntington's disease
Hydrocephalus
Hyperhidrosis
Intracranial hemorrhage
Intracranial venous malformations
Intraventricular tumor or lesion
Invasive fungal sinusitis
Inverted papilloma
Lumbar spinal stenosis
Malignant peripheral nerve sheath tumors
Medulloblastoma
Meningioma
Meningocele
Metachromatic leukodystrophy
Movement disorders
Moyamoya disease
Multiple endocrine neoplasia, type 1
Multiple sclerosis
Myoclonus
Nasal and paranasal tumors
Nasopharyngeal carcinoma
Neurofibroma
Neurofibromatosis
Odontoid pannus
Odontoid synovial cyst
Olfactory neuroblastoma
Oligodendroglioma
Optic nerve compression
Orbital inflammatory pseudotumor
Osteoma
Osteosarcoma
Paraganglioma
Parkinson's disease
Pediatric brain tumors
Peripheral nerve injuries
Peripheral nerve tumors
Peripheral neuropathy
Pituitary adenoma
Pituitary apoplexy
Pituitary tumors
Pseudotumor cerebri
Rathke cleft cyst
Rhabdomyosarcoma
Rheumatoid pannus
Scoliosis
Seizures
Sinus tumor
Spina bifida
Spinal arteriovenous malformation
Spinal cord injury
Spinal cord lymphoma
Spinal cord tumor
Spinal stenosis
Squamous cell carcinoma
Stroke
Subarachnoid hemorrhage
Subdural hemorrhage
Subependymal giant call astrocytoma
Subependymoma
Tourette syndrome
Transient ischemic attack
Trigeminal neuralgia
Venous malformation
Vertebral tumor
Services offered
Decompression spinal surgery
Endarterectomy
Endoscopic Endonasal Approach
Endovascular surgery
Epilepsy Surgery
Functional Neurosurgery
Intraoperative Angiography
Laser Spine Surgery
management of Stroke
Microsurgical Approaches
Microvascular Decompression
Minimally Invasive Surgery for Spinal Conditions
Minimally Invasive Surgery for Vascular Conditions
Shunt Surgery / VP Shunt
Skull Base Surgery
Spinal Fusion
Spinal reconstruction
Spine Surgery
Stenting
Stereotactic Neurosurgery
Surgical Implantation of Deep Brain Stimulators
Surgical Navigation
Trauma Surgery
Tumour Surgery
Virinchi Hospital, is one of the best brain hospital in Hyderabad, and we take our customer queries very seriously. To know more about the cost of treatment for the various procedures, please contact us at contact_us@virinchihospitals.com.


12000+
Surgeries Performed Till Date



"I'm Jayesh, patient of Virinchi Hospital I am firm believer in the methods adopted at Virinchi Hospital. No wonders, I am out of pain because of his efforts and treatments. "
Jayesh
"My body was in complete pain for nearly a two year or so. Through constant search I got to know about Virinchi Hospital, and I am glad that I came to this hospital for brain tumor issue. That's seems to be one of the best decisions I took. "
Naresh Y
Around 2015 I was told by my doctor that I am having the issues of memory disorders & stroke. There is constant shooting/tingling/numbing everyday. I am glad I am living a pain free life after my treatment from Virinchi Hospital.
Telisa Sairaj
I recommend Dr Ashish Nema. He is well experienced, very interactive and he listen all the problems and gives exact suggestion. I'm 55+ and still happy to consult him again.
Jayanthi P