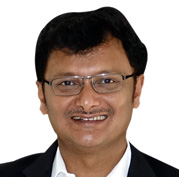 Sr.Consultant & Interventional Cardiologist
MBBS,M.D, D.M (Mumbai-Gold Medalist), FSCAI(USA)
Summary
Dr. Ganesh Mathan Hails from Coimbatore, Tamilnadu from where he graduated. His postgraduate career included research and clinical work at the department of Internal medicine and Cardiology at NHL medical school and Sir Grants Medical college at University of Gujarat and Mumbai respectively.

As an Interventional Cardiologist, Dr. Ganesh Mathan has wide knowledge and experience dealing with Primary and Complex PTCA in Acute Myocardial infarction. Dr.Ganesh Mathan has a experience of performing more than 20000 coronary angiograms and 3000 angioplasties with success rate more than 99%.

Dr.Ganesh Mathan has won many awards and recognitions for his outstanding performance. He is a Gold Medalist in Cardiology and was also awarded the "Best Young Interventional Cardiologist" by Singlive in Singapore. He was also awarded the ""Best Resident Award 2003″", for being the Top Scorer among all D.M/M.ch residents. He is also the Second Rank Holder in the MD exams. He secured the Best Research Thesis award in Cardiology in India, 2006.

His thesis and clinical trials have been widely appreciated for their clarity of ideas. He submitted the 'Coronary Angioplasty in Chronic Total Occlusion: Immediate and short-term follow up results' to the Mumbai University, July 2004. This paper was Awarded the best thesis in Cardiology in India.
Education
MBBS – Coimbatore Medical College, 1997
MD – General Medicine – Smt. NHL Municipal Medical College, Ahmedabad, 2001
DM – Cardiology – Grant Medical College and Sir JJ Hospital, Mumbai, 2004 FSCAI – SCAI, USA, 2013
Memberships
Cardiological Society of India (CSI)
Society Of Cardiovascular Angiography And Interventions, USA
Registration No
78925 Andhra Pradesh Medical Council, 2014
Need Assistance?
Call Our 24/7 Helpline Number
Need Help With Anything?
Request a Callback