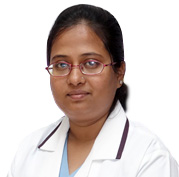 Dr. Sangeeta Vithoba Yelle
Consultant – Critical Care Medicine
MD (Anaesthesia), FNB (Critical Care)
Department – Critical Care
Summary
Dr. Sangeetha Vithoba Yelle is a Anesthesiologist in Banjara Hills, Hyderabad and has an experience of 7 years in this field. Dr. Sangeetha Vithoba Yelle practices at Virinchi Hospitals in Banjara Hills, Hyderabad. She completed MBBS from Maharashtra Universtity of Health Sciences, Nashik in 2006 and MD – Anaesthesiology from Maharashtra Universtity of Health Sciences, Nashik in 2011. She is a member of Medical Council of India (MCI). Some of the services provided by the doctor are: Chronic Pain Treatment,Joint Pain Treatment,Back Pain Treatment,Radio Frequency procedures and Sciatica Pain Treatment etc
Education
MBBS – Maharashtra Universtity of Health Sciences, Nashik, 2006
MD – Anaesthesiology – Maharashtra Universtity of Health Sciences, Nashik, 2011
Memberships
Medical Council of India (MCI)
Publications/ Paper/ Conference/ Paper presentation
Mechanical Simulation Workshop, Critical Care Update – August 2015
Sepsis Update, Hyderabad, November 2015
Criticare 2015, 21st Annual Conference of Indian Society of Critical Care Medicine held in Bengaluru, March 2015
Paediatric Anesthesia Lecture Series 2010, Seth GSMC and KEM hospital, Mumbai, April 2010.
ISACON 2009, 57th Annual National conference of the Indian society of Anaesthesiologists, Chennai, December 2009.
Presented a paper on ""Management for Computerized Tomographic Myelography in Operated Cases of Spine"" at 57th Annual National Conference of the Indian Society of Anaesthesiologists, Chennai, December
Nerve Blocks through Ultrasound Window, Seth GSMC and KEM Hospital, Mumbai, December 2009.
World Anesthesia Day 2009, Mumbai, October 2009.
Cardiac Patient for Non-cardiac Surgery, Mumbai Anesthesia Society, Mumbai, June, 2009.
Registration No
02985 Telangana State Medical Council, 2017
Need Assistance?
Call Our 24/7 Helpline Number
Need Help With Anything?
Request a Callback