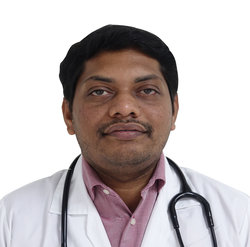 Consultant – Rheumatology
MBBS, MD(General Medicine), DM(Rheumatology)
Department – Rheumatology
Summary
Dr Sravan Kumar Appani is a Consultant with an overall 5 years' experience in the field of Rheumatology. He has been actively involved in treating several cases of Arthritis and Autoimmune disorders, administration of newer molecule like biologics, performed several Joint Aspirations and Intra-articular Injections. He completed MBBS from NRI Medical College, NTRUHS, MD(General Medicine)-NIMS, Hyderabad DM (Rheumatology)-NIMS, Hyderabad. His is an active member of Indian Rheumatology Association (LM 1202), API (Association of Physicians of India), Indian Society for Primary Immune Deficiency ISPID (ISPID/18/S-21), MyoIN (Myositis India Research group). His special interests include management of Rheumatoid Arthritis, Osteoarthritis, SLE (Lupus), Sjogren's syndrome, Scleroderma, Spondyloarthritis- Ankylosing Spondylitis, Psoriatic arthritis, Antiphospholipid syndrome (APS), Crystal Arthropathy like Gout, CPPD, Vasculitis, Takayasu arteritis, Paediatric Connective Tissue Disorders, Juvenile Arthritis, Myositis, Interstitial Lung Diseases-ILD, Primary Immunodeficiency syndromes, Sarcoidosis and Osteoporosis. Dr Sravan Kumar gave presentations in many National and International Conferences. He has also been as a Co-Investigator in Clinical Trials.
Education
MBBS – NRI Medical College, NTRUHS, 2010
MD – General Medicine, Nizam's Institute of Medical Sciences (NIMS), 2014
DM – Rheumatology, Nizam's Institute of Medical Sciences (NIMS), 2017
Memberships
Experience
2017 – 2018 Assistant Professor in Department Of Rheumatology and Clinical Immunology, Nizam's Institute of Medical Sciences (NIMS) Hyderabad
Research
Study of Serum Procalcitonin in patients with Sepsis, Septic shock and Systemic Inflammatory Response Syndrome. (2011-2014) MD Dissertation.
Response Assessment with Disease Modifying Anti-Rheumatic Drugs in Psoriatic Arthritis patients (2014-2017) DM Dissertation
Publications
Methotrexate achieves major cDAPSA response, improvement in dactylitis and functional status in Psoriatic Arthritis Journal: Rheumatology (OXFORD) Manuscript ID RHE-18-0782. (In press)
Diffuse Alveolar Hemorrhage in Systemic Lupus Erythematosus – A Single Center Experience from INDIA Journal: Rheumatology Advances in Practice Manuscript ID RHEUMAP-2018-009 (in communication)
Need Assistance?
Call Our 24/7 Helpline Number
Need Help With Anything?
Request a Callback