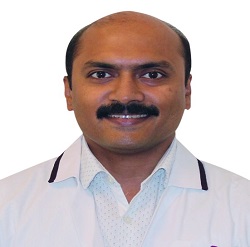 Senior Consultant, Cardiac Electrophysiology
MBBS, MD, DM, PG in EP (Belgium), PG in HF (Switzerland), ESC certified in EP and HF
Department – Electrophysiology
Summary
Dr Jayakeerthi Yoganaraismha, is an established Cardiac Electrophysiologist. He is an astute clinician with keen interest in academics and a contributor to the medical education in his speciality. His accomplishments include >1000 successful procedures of radiofrequency ablations and pacemaker implantations including defibrillators and heart failure devices. He has a track record of procedural safety and commitment towards his patients.
He has done his post-graduation in Cardiac Electrophysiology and Pacing (PCEP) from Belgium, under the tutelage of Prof. Pedro Brugada (of Brugada Syndrome fame), which led him to practice Electrophysiology at the highest standards. He is European Heart Rhythm Association (EHRA) certified in Electrophysiology.
He is the first to use :
• Single beat 3D mapping technology in united AP – June 2012
• Contact Force technology for AF ablation- March 2015
• Reveal Linq implantable cardiac monitor with MyCareLink Remote monitoring system- March 2017 in AP/ Telangana to use
Dr Jayakeerthi's thirst for academic progress and a keen interest in helping the sick, led him to achieve a second sub-specialisation, in Heart Failure which led to the post-graduation (PCHF) from the university of Zurich, Switzerland. He has obtained training in cardiac transplantation and artificial heart management from Germany. This was followed by the distinction of European Society of Cardiology (ESC) certification in Heart Failure. In fact, he is the first and only cardiologist to hold a post-graduation in 2 sub-specialities.
He is "B-Braun scholar 2007"Award Winner and Torrent Young Scholar Award- National 2nd- 2008".
He is the "Joint Secretary of Telangana CSI and an active member of European Heart Rhythm Association,Indian Heart Rhythm Society, Cardiological Society Of India
Education
MBBS – Kasturba Medical College, Manipal
MD – General Medicine – Kasturba Medical College, Manipal
DM – Cardiology – St John's Medical College, Bangalore
PCEP- Electrophysiology- VUB, Brussels, Belgium
Postgraduate Course in Heart Failure- Univ. of Zurich, Switzerland
Memberships
European Heart Rhythm Associsation
Indian Heart Rhythm Society
Cardiology Society of India
Expertise
Holter monitoring
EP Study
Pacemaker implantation
3D mapping
Defibrillator/ICD implantation
Radiofrequency ablation/RFA
CRT or Heart Failure device implantation
Atrial Fibrillation ablation
Heart Failure Care
Ventricular Tachycardia Ablation
Registration No
94564 Andhra Pradesh Medical Council
Need Assistance?
Call Our 24/7 Helpline Number
Need Help With Anything?
Request a Callback