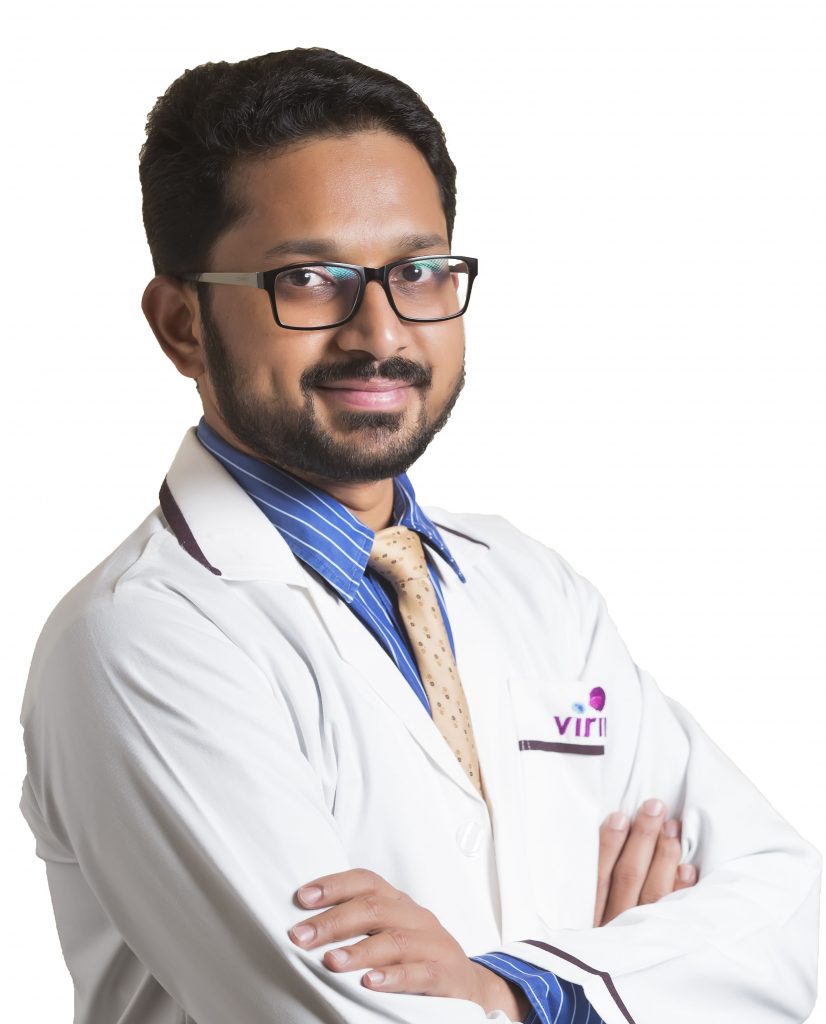 Sr Consultant
Orthopaedics Surgeon
Professor Orthopaedics

MBBS, MS(Ortho), FIJR, FIA, FISS
Summary
Dr Natesh Kolusu is the Best Orthopedic Surgeon with an experience of 11 years . He received his Bachelor degree in Medicine & Surgery from Dr Pinnamaneni Siddhartha Medical College with distinction grades. He is certified in Pain Medicine from MD Anderson Cancer Center, Texas (USA). Later he achieved his Master's Degree in
Orthopedics
from the prestigious BM Patil Medical College, Bijapur, Karnataka. He holds Depuy Johnson and Johnson, USA and Smith and Nephew, UK fellowships. He gained his expertise and technical skills in Sports Medicine, Arthroscopy, Shoulder and Joint Replacement surgery from a fellowship at Sunshine hospitals and Srikara hospitals. Previously, he worked as a Consultant Orthopedic Surgeon at a few reputed Hospitals. Dr Natesh has an experience of 500 replacement surgeries and arthroscopy surgeries each and around 2000 trauma cases attended independently over these years. He was the first to perform Gold Knee Replacement in Virinchi Hospitals independently and the first Rotating Platform and Oxinium Knee Replacement as a team at Virinchi Hospitals. He was awarded Vaidya Shiromani award by Dr. Kakarla Subba Rao garu.To his credit, he had 9 international publications in various fields and 6 paper presentations in state-level & national level conferences. His special interests are in Minimally invasive surgery and Orthobiologics, he is working on cartilage transplant surgeries for osteochondral lesions especially in knee joint, ankle joint and avascular necrosis of the head of the femur. He was also trained in Revision joint replacement surgery and complicated knee and shoulder Arthroscopy surgeries, in addition to complicated trauma. He is an active Member of Bombay orthopedic association and Indian Orthopedic Association.
Education
MBBS – Dr. NTR University of Health Sciences Andhra Pradesh, 2009
MS – Orthopaedics – BLDE University, 2013
Research and Authorship/Editorship/Reviewer/Co-Author of Chapters
"Case Report a Review Of Literature: Subeltoid Bursa Tuberculosis with Rice Body Formation," International Journal of Allied Medical Science and Clinical Research, April – June 2015, Vol. 3, Issue 2
"Preliminary Screening of Osteoporosis and Osteopenia in Middle Aged Urban Women from Hyderabad (India) Using Calcaneal," Qus International Journal of Research in Medical Sciences, August 2015, Vol. 3, Issue 8
"Early Results of Treatment of Idiopathic Club Foot Using Ponseti Method," MRIMS journal of health sciences, July – Dec 2015, Vol.3, Issue 2, Pg.104-108
"Is Closed Manipulative Reduction and Percutaneous Kirschner Wiring of Supracondylar Humeral Fracture in Children as Day Care Surgery a Safe Procedure," Malaysian Orthopaedic Journal, 2013, Vol. 7, No. 3
"Aneurysmal Bone Cyst Of Pubic Ramus: A Rare Entity," Journal of Clinical and Diagnostic Research, Aug 2013, Vol-7(8), Pg.1740-1742
"Fixation of Anterior Cruciate Ligament Avulsion with Stapels – A Case Report," MRIMS journal of health sciences, July-Dec 2013, Vol.1, Issue 2, Pg. 66- 68
Fellowships/ Affiliations
Fellowship in arthroscopy and shoulder surgery (Smith and Nephew)
Fellowship in arthroplasty (Depuy)
Publications/ Paper/ Conference/ Paper presentation
Presented a scientific paper on Evaluation of Supracondylar Fractures of the Humerus in Children by Closed Reduction and K Wiring at 37 Annual Conference of Karnataka Orthopedic Association Manipal (KOACON ) in Feb 2013
Presented a paper on Primary Total Elbow Replacement in an Old Unreduced Traumatic Posterior Dislocation of Elbow Joint 57 National Conference at Chennai in Dec 2012
Presented a paper on Evaluation of Mid-term Results of Primary Cemented and Uncemented Hip Replacement in Indian Active Males at 41 Annual Conference of Orthopedic Surgeons Society of Andhra Pradesh (OSSAPCON ) at Rajahmundry in March 2012
Presented two papers in scientific and research society of BLDE university and one of them was also selected for gold medal in 2012
Need Assistance?
Call Our 24/7 Helpline Number
Need Help With Anything?
Request a Callback