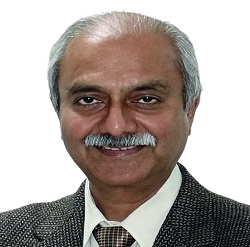 Sr. Consultant – Obesity, Diabetes Bariatric & Metabolic Surgeon
MBBS, MS (General Surgery)
Department – Minimal access, Metabolic, Bariatric and GI Surgery
Summary
Dr Surendra Ugale with an experience of 28 years has been considered as a pioneer in Metabolic and Advanced Laparoscopic surgeries and has been trained in these areas in Germany, USA & Brazil and subsequently performed more than 25,000 Laparoscopic surgeries . His areas of expertise include Bariatric and Metabolic surgeries for Obesity and
Diabetes
, besides all other advanced laparoscopic surgeries (Fundoplications, Bowel Resections, Rectopexy, Esophagectomy, Gastrectomy, Splenectomy, Cholecystectomy, Appendectomy, Repair of Para-oesophageal and diaphragmatic hernias, Repair of -Inguinal, Umbilical and Incisional Hernias, and Vagotomy with Gastro jejunostomy. He is the 2nd Surgeon in the world to start Laparoscopic Ileal Interposition for Type-2 Diabetes and trained many international surgeons; he developed the Diabetes Severity Score and has been a Proctor at national and international centers and visiting Prof. of Surgery, KLE Univ. Belgaum. He has contributed chapters in 4 books; gave many presentations in various national and international conferences; published 24 papers in various national and international journals. He has spread Laparoscopic surgery to many other parts of India with proctoring and training workshops. His is a Life Member of Obesity & Metabolic Surgery Society of India (OSSI),Life Member of Indian Association of Gastrointestinal Endosurgeons (IAGES),Life Member of Association of Surgeons of India (ASI),Life Member of Association of Colon & Rectal Surgeons of India (ACRSI).Member of International Federation for the Surgery of Obesity and Metabolic Disorders (IFSO), Member of American Society for Metabolic & Bariatric Surgery (ASMBS), Member of Society of American Gastrointestinal and Endoscopic Surgeons (SAGES) Dr Surendra Ugale was awarded Fellowship of Advanced Laparoscopic Surgery (Bariatric) [F.A.L.S] and Fellowship from Tata Memorial Hospital, Mumbai, for Advanced GI Oncologic Surgery.
Education
Memberships
Founder Member of Indian Association of Gastrointestinal Endo-Surgeons (IAGES)
International Member of Society of American Gastro-intestinal Surgeons (SAGES)
Member of International Hepato-Pancreato-Biliary Association (IHPBA)
International Member of ELSA- Endoscopic & Laparoscopic Surgeons of Asia
Member of IAGES – Indian Association of Gastrointestinal Endoscopic Surgeons
Need Assistance?
Call Our 24/7 Helpline Number
Need Help With Anything?
Request a Callback