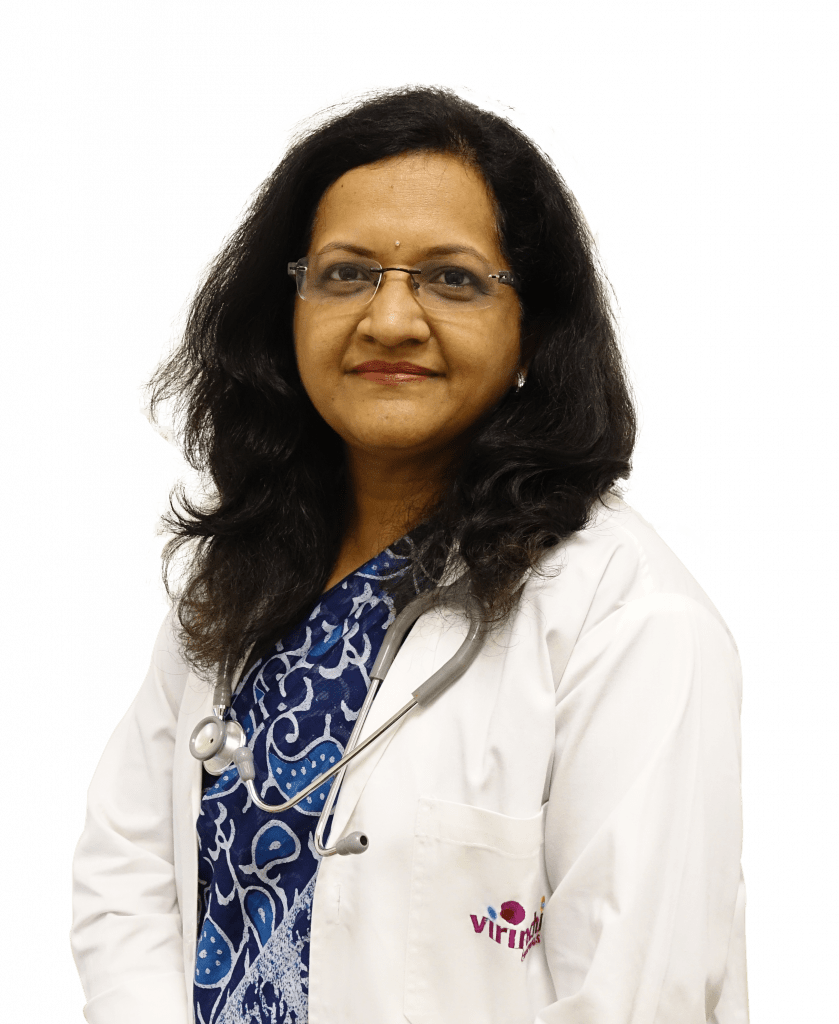 Consultant- Gynaecologist and Obstetrics
Department – Obs & Gynaecology
Summary
Dr. Sudha is a Senior Conultant Gynaecologist and Obsterician with 18 years of experience in this field including nine years of experience in laparoscopy and infertility. Prior to Virinchi Hospitals, she worked as a Consultant Obstetrician and Gynaecologist at a few reputed Hospitals. Her areas of specialization include gynecologic laparoscopy and high-risk pregnancies and she independently performs all diagnostic, therapeutic and emergency gynecologic surgeries. She has performed several total laparoscopic hysterectomies, myomectomies, and obstetrics & gynecological ultrasounds including follicular monitoring in patients for ovulation induction. In addition, she did quite a large number of laparoscopic post-partum sterilizations. Dr. Sudha has immense interest in public awareness programmes and Health Talks.
Education
M.B.B.S. – Distinction in Pharmacology, Osmania Medical College, Hyderabad, 1991
D.G.O – University of Health Sciences, Andhra Pradesh, 1997
M.D. – Obstetrics & Gynaecology – Dr. NTR University of Health Sciences Andhra Pradesh, 2002
FMAS – Fellowship in Minimal Acess Surgery
Memberships
Life Member of IMA (Indian Medical Association
Member of FOGSI (Federation of Obstetric and Gynae Society of India)
Member of SELSI (Society of Endoscopic and laparoscopic Surgeons of India
Experience
Consultant Gynaecologist, Obstetrician and Laparoscopic surgeon, Bristlecone Hospitals, Barkatpura, 2010 – 2016
Visiting Consultant, Kirloskar Hospital, Basheerbagh , 2010 – 2016
Consultant Gynaecologist, Suman Chandra Hospital, YMCA, Narayanaguda 2004 – 2007
Consultant Gynaecologist, Kamineni Hospital, King Koti, 2007 – 2010
Expertise
Total Laparoscopic Hysterectomy
Lap Myomectomy
Lap Ovarian Cystectomy
Lap Sterilization
Lap. Management of ruptured Ectopic Pregnancy
Lap. Management torsion of Ovarian cyst
Diagnostic Hystero Laparoscopy
Hysteroscopic guided polypectomy and Septal Resection
Tubal Recanalisation Surgery
Stress incontinence Surgery
PCOD and Endometriosis
Registration No
34213 Andhra Pradesh Medical Council, 1992
Need Assistance?
Call Our 24/7 Helpline Number
Need Help With Anything?
Request a Callback