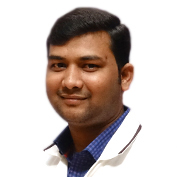 BPT, MPT (Sports Medicine), MBA
Department – Physiotherapy
Summary
Joseph Edla is a Senior Physiotherapist in the Department of Physiotherapy & Wellness at Virinchi Hospitals. He has overall six years' experience in physiotherapy and wellness. Prior to joining Virinchi Hospitals, he worked as Physiotherapist at Yashoda Hospital and Apollo Wellness Centre, Hyderabad. He has hands-on experience in the techniques of manual therapy, taping, IASTM, and dry needling. His areas of interest include offering care for sports injuries and planning sports specific training programs. He is passionate about learning new techniques in physiotherapy.
He has hands-on experience in understanding the pathophysiology of various diseases and rehabilitation; designing physical therapy and wellness protocols for various sports injuries, musculo-skeletal, neurological and cardio-respiratory conditions; and treating musculoskeletal conditions like back pain, neck pain, shoulder pain, joint pains, sciatica etc. In addition, he also deals with Intensive care unit management of Pre- surgical and Post- surgical patients, manual therapy and taping techniques for sports injuries, and treatment of geriatric patients.
Achievements
Manipulation Therapy course from Physio minds Association for Updating Therapeutic Skills.
Attended certified course on "Basic Life Support "conducted by Yashoda Hospital.
Completed Certified Physique Elite Transformation Specialist course in September 2013.
Certified Professional in Kinesiological and Athletic Taping from Institute of Kinesiology Taping. Thesis & Projects

Thesis: "Efficacy of Core Strengthening Training Program on Balance and Endurance In Cricketers"
Project: "Plyometric Training for Basketball Players" CME's Organized
Organized CME on Essentials of Rheumatology and Approach to Spine – A Manual Therapy on 29 June 2014 at Yashoda Hospital.
Organized Hands on Manual Therapy Workshop on Craniosacral Therapy 2 & 3 August 2013 at Yashoda Hospital.
Publications/ Paper/ Conference/ Paper presentation
Participated in PHYSIOCON 2014 National Physiotherapy Conference organized by Swatantra College of Physiotherapy, Rajahmundry on 7 & 8 March 2014.
Participated in National Physiotherapy Conference organized by Durgabai Deshmukh College, Hyderabad on 5 & 6 March 2014.
Participated in Essential Pain Management Workshop at Yashoda Hospital on 5 April 2014
Attended workshop on Acupuncture from Fitness and Rehab Forum.
Attended Current Trends in Spinal Disorders conducted by Prime Hospitals
Attended workshop on "Analysis & Treatment Concepts in Paediatric Neuro Motor Disorders" from ALEXIS –Academy of Rehab Sciences.
Attended String 09 – National Level Physiotherapy Conference
Attended International Congress on Neurology and Rehabilitation 2012
Attended The Inner Circle to build necessary human skills for better patient care conducted by Dr. Reddy's Foundation for Health Education.
Attended CME on Orthopaedics, Spine & Physiotherapy Update 2012 Conducted by Yashoda Hospital.
Need Assistance?
Call Our 24/7 Helpline Number
Need Help With Anything?
Request a Callback