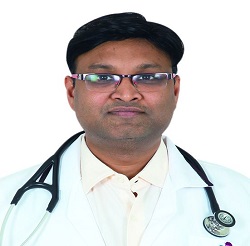 Sr. Consultant – Interventional Cardiologist
MBBS, MD(Med), DNB(Cardiology), FESC
Summary
Dr. Deepak Kumar Saha is a Senior Interventional Cardiologist with immense experience in Coronary Angioplasty including complex procedures along with Peripheral and Carotid Angioplasties. He has expertise in Echocardiography including 3D Echocardiography, and TEE. He is trained in PBMV, Balloon Pulmonary and Aortic Valvuloplasty.
Dr. Saha has won Vaidya Ratna Award by Mother Foundation and Best Doctors Award 2018 by Suman Arts Theatre. He was involved in several multinational clinical trials as a principal and co-investigator and delivered case studies, presentations, and seminars.
He is an active member of the European Society of Cardiology,CSI. He has a special interest in device closures and has successfully implanted pacemakers, Implantable Cardioverter Defibrillator (ICD) and Cardiac Resynchronization Therapy (CRT) devices (He underwent training in Milan, Italy). He has quite a few Endovascular Aneurysm Repair of Aorta (EVAR) to his credit as well.
Education
MBBS – MKCG Medical College, Berhampur, Orissa, 1998
MD – Internal Medicine – Sriram Chandra Bhanj Medical College, Cuttack, 2003
DNB – Cardiology – Batra hospital and research Institute,New Delhi, 2009
Awards and Recognitions
Vaidya Ratna Award by Mother Foundation – 2014
Executive Editor Indian Heart Journal – 2012
Clinical Trials
Principal Investigator in ENGAGE- AF TIMI -48 trial (Effective Anticoagulation With Factor Xa Next Generation in Atrial Fibrillation)
Co-Investigator in PEACH F Trial: Prospective Evaluation of AGE Breaker in Heart Failure
Co-Investigator in VISTA-16 Trial: Evaluation of Safety and Efficacy of Short-term A – 002 Treatment in Subjects with Acute Coronary Syndrome.
Publications/ Paper/ Conference/ Paper presentation
Lipoprotein Abnormalities in Type 2 Diabetes Mellitus with Albuminuria – December 2003, JAPI
Clinical Research Article: " Beta Blockers in Acute Myocardial Infarction" – Mar-April 2010, Indian Heart Journal
Journal Review:
Rivaroxaban in Patients with a Recent Acute Coronary Syndrome
Effect of Two Intensive Statin Regimens on Progression of Coronary Disease – Jan-Feb 2012, Indian Heart Journal – Pg.115-117
Follow-up of CREST Trial : No Difference in Carotid Restenosis rates between Stenting and Surgery
PROFI Study (Prevention of Cerebral Embolization by Proximal Balloon Occlusion Compared to Filter Protection in Carotid Artery Stenting).
Clinical Outcome in Asymptomatic Severe Aortic Stenosis – Mar-Apr 2012 Indian Heart Journal – Pg.217-219
Need Assistance?
Call Our 24/7 Helpline Number
Need Help With Anything?
Request a Callback