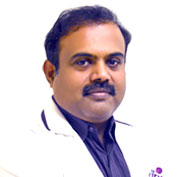 Sr. Consultant – Orthopaedic Surgeon
Summary
With a decade of experience in orthopedic surgery and more than 2000 successful surgeries to his credit, Dr. Ashwin Kasturi has contributed to the well being of patients in the Telangana region . He received his MS (Ortho) from prestigious Gandhi Medical College, Secunderabad & trained under eminent professors and good clinical exposure. He has presented in most prestigious conferences, has 15 international publications & research papers to his credit. With his skill combined with empathetic approach to one's concerns, he makes the patient feel comfortable and imparts knowledge to them, which helps them understand and comprehend their situation better. All of this makes the path to recovery much smoother, so they can be active and live life to the fullest again. He provides a friendly, professional and individualized approach for every patient. Dr.Ashwin specializes in treating a wide range of Fracture & Trauma conditions, Hip and Knee Surgery, including, Hip Replacement surgery, Knee Replacement surgery Arthroscopic Knee Surgery and ACL Reconstruction. He holds Fellowship in Joint Replacement Surgery, Fellowship in Arthoscopy and Sports Medicine. He is an active member of IMA, IOA, TOSA, OSSAP,
REDCROSS
. His special interests are Complex-Trauma, Fracture Management, Arthroscopy, Arthoplasty.
Education
MBBS – Mamata Medical College, Khammam, 2003
MS – Orthopaedics – Gandhi Medical College, Hyderabad, 2009
Memberships
Indian Medical Association (IMA)
Indian Orthopaedic Association
Telangana Orthopaedic Association
Orthopaedic Surgeons Society of Andhra Pradesh
Membership of Indian Red Cross Society
Experience
2006 – 2009 Resident at Gandhi Medical College
2009 – 2011 Assistant Professor at Chalmeda Ananda Rao Hospital & Medical College
2011 – 2016 Cosultant at Anupama Hospital
2011 – 2016 Consultant & Associate Professor at Malla Reddy Hospital
Need Assistance?
Call Our 24/7 Helpline Number
Need Help With Anything?
Request a Callback