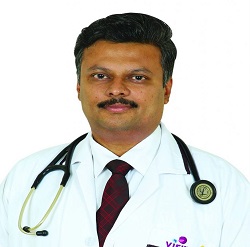 Sr. Consultant Interventional Cardiologist
MBBS, MD(Medicine), DNB(Cardiology), FACC
Summary
Dr. Ashish Nema has an overall 12 years of experience in Cardiology. He started his professional career with Indraprastha Apollo Hospital, New Delhi in 2002 as Senior resident in department of Gastroenterology and Cardiology. He worked as an Assistant Professor in Dept. Of Medicine at NSCB Medical College Jabalpur for 4 years. He completed his Fellowship in Cardiology (D.N.B.) from Care Hospitals, and continued working there as Junior Consultant in Cardiology for an year. He also got his fellowship of American College of Cardiology in 2017. Dr. Ashish completed his M.D.(Medicine) in 2002 from Berhampur, Orissa and D.N.B. (Cardiology) in 2010 from N.B.E., New Delhi. He has attended many national conferences and workshops on Cardiology. Interventional, Non-interventional, clinical cardiology and research activity in department of cardiology is of special interest to him.
Education
MBBS – MKCG Medical College, Berhampur, Orissa, 1995
MD – Cardiology – MKCG Medical College, Berhampur, Orissa, 2005
DNB – Cardiology – State Medical University Semey, 2007
Memberships
Indian Medical Association (IMA)
Cardiological Society of India (CSI)
Association of Physicians of India (API)
Fellow Of American College Of Cardiology
Experience
1998 – 1998 Junior Resident at Rajiv Gandhi Cancer Institute, Rohini
1999 – 1999 Junior Resident at Rajan Babi TB Hospital
2002 – 2002 Senior Resident at Apollo Hospital
2002 – 2007 Assistant Professor at Netaji Subash Chandra Bose Medical College.
2007 – 2010 Fellowship In Cardiology at Care Hospital
Registration No
90830 Andhra Pradesh Medical Council, 2015
Need Assistance?
Call Our 24/7 Helpline Number
Need Help With Anything?
Request a Callback