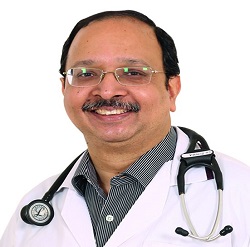 Sr. Interventional Cardiologist
Summary
Dr Sumeet Sinha is a Senior Interventional Cardiolgist with 25 years of experience. He did his MBBS and MD General Medicine from Andhra Medical College Visakhapatnam and secured 8 Gold Medals. He did his DM Cardiology from GB PANT hospital, New Delhi. Subsequently he worked as a consultant cardiologist in few reputed Hospitals. He is a life member of CSI, Heart failure society, National interventional council, IMA. He has publications in many national and international journals and participated and presented papers in various national and international conferences. He has performed thousands of noninvasive procedures like Echo TEE DSE and more than 20000 invasive procedures including coronary angiogram, angioplasty, peripheral and carotid angioplasty, pacemakers, valvuloplasty etc. He is actively involved in teaching students and academic activities. He has special interests are in Heart failure management and preventive cardiology, Interventional cardiology including complex coronary, valvular, peripheral, carotid, TransRadial procedures, and TAVI pacemakers.
Education
MBBS – Andhra Medical College, Visakhapatnam, 1991
MD – General Medicine – Andhra Medical College, Visakhapatnam, 1995
DM – Cardiology – GB Pant Hospital, New Delhi, 1999
Awards and Recognitions
7 gold medals in MBBS, GOLD medal in MD general medicine – 1992
Memberships
Indian Medical Association (IMA)
Cardiological Society of India (CSI)
Experience
2003 – 2016 Sr consultant cardiologist at Kamineni hospital
2016 – Present Head cardiology dept at Virinchi hospital BanjaraHills
Research and Authorship/Editorship/Reviewer/Co-Author of Chapters
Investigator in Create Study & Registry Investigator in Cassiopea Study
Fellowships/ Affiliations
Fellow of Interventional Cardiology
Fellow of Heart Failure Society of India
Fellow of Society for Cardiac Angiography & Interventions (FSCAI)
Publications/ Paper/ Conference/ Paper presentation
Published Many Papers in Several National & International Journals
Persistence of Slow Flow Phenomenon Following Successful Stenting, IHJ, 1997
Trans-catheter Closure of ASD with Amplatzer Device, IHJ May 1999
Elective Stent Implantation after Optimal Debulking for Complex Coronary Lesions, May 1988
Participated in Many National & International Conferences like TCT ESC EUROPCR and CME Programs
Trans-catheter closure of ASD with Amplatzer Device CSI 1998
PTMC in Severe Rheumatic Mitral Restenosis CSI 1998
Trans-catheter Closure of PDA with Amplatzer Device CSI 1999
Conducted several CME'S programs in Hyderabad
Registration No
33756 Andhra Pradesh Medical Council, 1992
Need Assistance?
Call Our 24/7 Helpline Number
Need Help With Anything?
Request a Callback