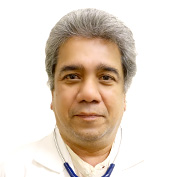 Sr. Consultant, Co-Director – Virinchi Institute of Immunology & Infectious Diseases
Department – Virinchi Institute of Immunology and Infectious Diseases
Summary
Dr Ram Mohan Reddy is a Senior Radiation Oncologist in the Department of Oncology at Virinchi Hospitals. He has overall 22 years' experience in oncology. Prior to joining Virinchi Hospitals, he worked as the Head of the Radiation Oncology Department at Continental Hospitals; Senior Consultant Radiation Oncologist at Omega Hospitals and Indo-American Cancer Institute; Director Oncology at Aware Hospital; Consultant Radiation Oncologist at Bibi Cancer Hospital and CDR Cancer Hospital, Hyderabad. High Precision Radiotherapy, Radio Surgery & Brachy therapy are his areas of interest.
He encourages special drives for early detection of cancer to make it curable by conducting special awareness camps, health talks and programs and by providing the best possible treatment with precision. Dr Reddy holds the Guinness World Record for the largest number of patients (2,790 patients) screened for breast cancer (the patients simultaneous performed self-examination for breast cancer in Guntur on 20th February 2016). Dr Reddy is a friendly person who believes in teamwork and encourages it in fighting cancer. He is interested in organic farming and personally does it.
Awards and Recognitions
Received the Best Paper Award at 18th National Conference of AROI (Association of Radiation Oncologists of India) Holds the GUINNESS WORLD RECORD For Largest simultaneous self-examination for breast cancer consisting of 2,790 patients in Guntur on 20th February 2016
Research and Authorship/Editorship/Reviewer/Co-Author of Chapters
Rectum and Bladder Dose Variations during Prostate IGRT— An Evaluation of Bladder and Bowel Preparation Protocol – Presented at 54th Annual Meeting of ASTRO in Boston
Bladder and Rectum Volume Changes during Prostate IGRT – Are Bowel and Bladder Preparation Protocols Effective? Presented at European Society of Therapeutic Radiology and Oncology (ESTRO 31)
Faculty
Taught high-precision radiotherapy techniques to trainee radiation oncologists
Faculty for DNB Radio therapy Program
Need Assistance?
Call Our 24/7 Helpline Number
Need Help With Anything?
Request a Callback