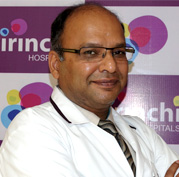 Dr Anand Kumar Agarwal
Summary
Dr Agarwal is a Senior Consultant Cardiothoracic Surgeon in the Department of Cardiothoracic Surgery at Virinchi Hospitals. He has more than two decades of experience in cardiothoracic surgery. He has performed more than 2500 major cardiothoracic surgical procedures to date. Dr. Anand Kumar Agarwal is an established and well recognized adult cardiothoracic surgeon. He spent over nine years in UK training in basic and advanced cardiothoracic surgery. He has worked with world-renowned surgeons in London and Oxford. His chief mentor is the renowned coronary surgeon Prof. David Taggart from Oxford. Dr Agarwal specializes in Beating Heart CABG, Valve Replacements, Valve Repairs, Grownup Congenital Cardiac Surgeries and Minimally Invasive Cardiac surgical procedures as well as a variety of aortic surgeries including Aneurysm Surgery for Aortic Dissections. After returning from UK he has spent seven years in the world-renowned Narayana Hrudalaya Hospitals as a Consultant Cardiothoracic Surgeon. He is interested in preventive aspects of cardiology.

According to Dr Agarwal, cardiac surgery is advancing at a steady pace as heart transplantation, minimally invasive cardiac surgery, and ventricular assisted devices are becoming a routine nowadays. Owing to such advances in cardiac surgery, he would like to establish a comprehensive cardiac centre of excellence specializing in minimally invasive cardiac surgery and heart transplantation at Virinchi Hospitals. He is an eloquent speaker with a keen interest in philosophy and interfaith dialogue.
Abstracts of the Papers
Predictors of Stroke Risk in Patients undergoing CABG.
A Retrospective Study of the Modified BT Shunt – A 6 Years Review. 1996 – 2001

Published in the official journal of the Cardio-thoracic Surgeon's Association of India in January 2003 issue.
Education
M.B.B.S., Osmania Medical College, Hyderabad, India
FRCS, Glasgow, United Kingdom
M.Ch. (Cardiothoracic Surgery), NIMS, Hyderabad, India
FRCS (Cardiothoracic Surgery), Glasgow, United Kingdom
Conferences
National Conference of Cardiothoracic Surgeons Association of India Feb 2012 and Feb 2010
Annual Meeting of the Society of Cardiothoracic Surgeons of Great Britain and Ireland, Manchester, March 2007
Annual Meeting of the Society of Cardiothoracic Surgeons of Great Britain and Ireland, London, March 2005
National Conference of Cardio Thoracic Surgeons Association of India, February 2003
Minimally Invasive Cardiac Surgery Workshop at Nizam's Institute of Medical Sciences, November 1999
Courses
Birmingham Review Course in Cardiothoracic Surgery
Imaging and Perfusion Course, Liverpool
Applied Basic Sciences for Cardiothoracic Surgeons
ALS – Milton Keynes
Preparing for Clinical Governance, Kings College Hospital
Teaching the Teachers, Kings College Hospital
Atrial Fibrillation Update, Manchester Royal Infirmary
Ethicon Anastomosis Course, New Delhi
Mitral Valve Repair Course at Care Hospital, Hyderabad
Anatomy, for cardiac surgeons at Durgabai Deshmukh Hospital by Dr. Salmon Victor
Vascular Study Day at Aintree Hospital
Interviewee Skills Course at Countess of Chester Hospital
Basic Surgical Skills Course
ATLS at Whiston
FRCS-B Course at Southern General Hospital, Glasgow
Basic Life Support Course, Havering Hospitals NHS Trust
Awards and Distinctions
First Rank in SSC in Hyderabad District
First Rank in College in Intermediate
Distinction & College First in Biochemistry
First Rank in M.Ch. (Cardiothoracic Surgery) Entrance Exam
First Rank in M.Ch. (Cardiothoracic Surgery) Final Exam
Presentations
Gave a talk on Nightmares in valve surgery at the CSI meeting in Kochi –Dec 2009
Presented two papers at the national conference of cardio thoracic surgeons Association of India Feb 2003.
Presented a Paper on Predictors of Stroke Risk in Patients undergoing CABG
A Retrospective Study of the Modified BT Shunt – a 6 years review: 1996 – 2001
Publications
Repair of Type B Interrupted Aortic Arch Using Aberrant Right Subclavian Artery – with Prof. Westaby in Interactive Cardiovascular Thoracic Surgeon 2009 June 3